A Scam is any means by which someone can steal your account or in-game items without your permission. This usually happens by means of deceiving players.
Fake MechScape Beta
Edit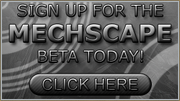 As with all popular games, scammers were quick to take advantage of the public excitement for the advent of MechScape. On January 12, 2009, Richard McLaremy of Los Angeles, California registered www.mechscapebeta.info.[1] The site contained a familiar, RuneScape-like interface, encouraging impatient MechScape fans to log in to the fake beta using their Jagex accounts. Once the registration form was submitted, the site would claim that the registration was full for today, and the user should try again at a later date. Without the user's knowledge, the site would log the entered username and password and then attempt to hijack the victim account.
What to do if you've been scammed
Edit
If the account hasn't been hijacked yet:
In a new

browser window

or

tab

, visit the RuneScape website to change the password.
If the account has been hijacked:
Visit the RuneScape website and click on the option to recover the account.
Enter as many details as possible into the form.
The owner should regain control over the account, though it may take several tries. Note that it will not recover any lost items.
Never enter your password on any sites other than official Jagex websites.
False Beta Emails
Edit
On 19 March 2009, emails claiming to be from Jagex were sent to a few random RuneScape members with submitted email addresses announcing they have been chosen to test selected weapons on MechScape. This was a scam and people are advised to not follow the link or enter personal details on the website. Jagex never communicates to players through email and will only contact players through the message center on their domain.
References
Edit
Community content is available under
CC-BY-SA
unless otherwise noted.