FunOrb is a gaming website run by Jagex. It was announced in February 2008, and released later that month on the 27 February.[1] It uses the same account information as Stellar Dawn, RuneScape, and War of Legends, but requires a separate membership fee.
The site hosts small games varying in amount of possible playtime from an hour to two days. 40% of the website is available for free while the other 60% is available to persons who pay the membership fee. Jagex offers a discount for those who are paying members of both RuneScape and FunOrb.
It was originally released with 18 games, with each game having various achievements. Now, in keeping with their promise of an update every two weeks, it now has a total of 38.
The most popular game on the site is the turn-based multiplayer game Arcanists, in which the player takes on the role of an aspiring wizard who battles against his or her rivals in destructible arenas. The second most popular game on the site is the turn-based multiplayer strategy game Armies of Gielinor, set in Gielinor (the land in which RuneScape is set), during the God Wars. You can summon beasts such as Black Knights, Greater Demons, Aviansies, and other monsters from the RuneScape universe, in which players control their armies and units from different Gods to take control of villages and structures and defeat the enemy.
Jagex has used almost exclusively the popularity of RuneScape to gain patrons for this site, with almost all FunOrb players being either current or former RuneScape players. Jagex does not advertise FunOrb anywhere (except on the RuneScape website). There are some larger FunOrb announcements, such as the release of Armies of Gielinor.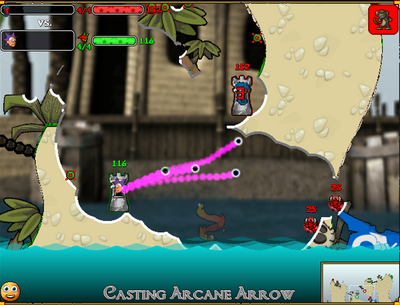 | Name | Category | Single-player or multiplayer? |
| --- | --- | --- |
| 36 Card Trick | Puzzle | Single-player |
| Arcanists | Strategy | Multiplayer |
| Armies of Gielinor | Strategy | Multiplayer |
| Bouncedown | Arcade | Both |
| Brick-À-Brac | Arcade | Both |
| Chess | Strategy | Multiplayer |
| Crazy Crystals | Puzzle | Single-player |
| Deko Bloko | Arcade | Both |
| Dr. P. Saves the Earth | Shooter | Single-player |
| Dungeon Assault | Strategy | Multiplayer |
| Escape Vector | Arcade | Single-player |
| Flea Circus | Puzzle | Single-player |
| Geoblox | Arcade | Single-player |
| Hold the Line | Racer | Single-player |
| Hostile Spawn | Shooter | Single-player |
| Lexicominos | Word | Single-player |
| Miner Disturbance | Arcade | Single-player |
| Monkey Puzzle 2 | Arcade | Single-player |
| Orb Defence | Arcade | Single-player |
| Pixelate | Puzzle | Both |
| Pool | Sport | Both |
| Shattered Plans | Strategy | Multiplayer |
| Sol-Knight | Arcade | Single-player |
| StarCannon | Shooter | Single-player |
| Stellar Shard | Arcade | Single-player |
| TerraPhoenix | Strategy | Single-player |
| TetraLink | Strategy | Multiplayer |
| The Track Controller | Puzzle | Single-player |
| Tor Challenge | Platform | Single-player |
| Torquing! | Platform | Single-player |
| Transmogrify | Word | Single-player |
| Vertigo 2 | Platform | Both |
| Virogrid | Strategy | Multiplayer |
| Wizard Run | Platform | Single-player |
| Zombie Dawn | Strategy | Single-player |
| Zombie Dawn Multiplayer | Strategy | Multiplayer |
References
Edit
External links
Edit