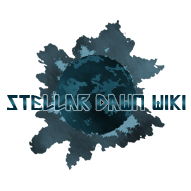 Welcome to the MechScape Wiki
the wiki devoted to the MMORPG MechScape that anyone can edit!
519 articles since created on 20 November 2007.
Overview · Wiki tutorial · Help pages · Content.
Other Languages:
Nederlands - Deutsch - Danish
Sister Sites:
UnMechScape - MechScape Clans

Article of the month

MechScape was going to be browser-based game being developed by Jagex Ltd. Its development started in 2006. In 2009, Jagex decided that MechScape was not up to their standards, and began working anew on the project, renaming it Stellar Dawn. This article has been preserved for historical purposes. Read more...

User of the month

There is no featured user at the present time. To learn more about featured users, please visit here.




Since the game will not be released for a further while, there will probably be very little information on the Stellar Dawn Wiki, though feel free to expand what we currently have and add more info to the wiki when Jagex reveals more details about the game.

To see a list of all pages, click here.

Polls

2011 is the release year for Stellar Dawn, will you still play RuneScape?

 

The Stellar Dawn Wiki has changed it's look in accordance with Wikia. What are opinions on our newest appearance?

 

News




Stellar Dawn Updates

18 November 2010

13 October 2010

10 September 2010




Wiki Updates

20 November 2010 - The Stellar Dawn Wiki turns 3! Happy Anniversary!!!

30 July 2010 - Hess36 has been granted administrator rights by Bonziiznob

We thank everyone for their continued support and contributions. However, to avoid contributions which are in vain to the wiki, please do not submit content which is a rumour or a speculation. As a wiki, we are devoted to facts and truth, and rumours only upset this balance and create hostile thoughts and expectations. We appreciate your awareness on this matter.





Helping Out

The Stellar Dawn Wiki is a community that aims to create the best resource for MechScape, a massively multiplayer online game being developed by Jagex.

To write a new article, just enter the title in the box below. If you are new to wikis, check out the tutorial.

Adding content

Talk and more...